Beer Store, Canadian Tire Could Help End Toronto Housing Crisis: Study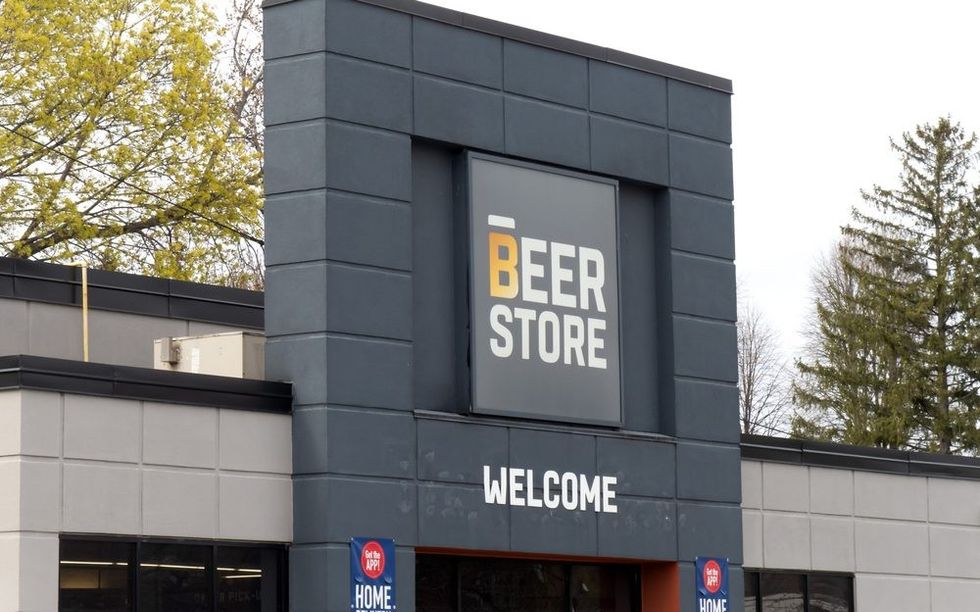 Written by
Laura Hanrahan
The Beer Store, Canadian Tire and four other major retailers could play a big role in solving Toronto's housing affordability crisis, a new study claims from the University of Toronto.
The study, conducted by the University of Toronto's School of Cities, found that six leading retailers – The Beer Store, Canadian Tire, IKEA, Sobeys, Metro and Choice REIT (the Loblaws family's real estate holdings) – collectively occupy enough land in Toronto to build 68,579 new homes.
The retailers' set of large-scale sites, often located close to public transport with only a one-story building and ample parking areas, make them ideal candidates for development.
"In other words, many of these sites are underutilized land, referring to sites that have more development potential than what is currently in use," the study says. "There is potential to unlock these sites as a transit-oriented or mixed-use development, with the original commercial use cost-effectively rebuilt into mixed-use buildings that co-locate market housing, residential affordable and non-profit services."
The study looked at 65 sites currently owned or occupied by retailers and found that 64 of them were suited to have mid-rise buildings, "a type of built form that has been largely lacking in 'tall' development models. and sprawl "of the city over the past few decades," the study says. Using conservative criteria, only two of the sites were eligible for high-rise buildings. Forty-eight of the sites were deemed large enough to contain several buildings.
Three downtown Toronto locations – the Canadian Tire at 839 Yonge Street, the Subway at 425 Bloor Street West and the Sobeys at 1015 Broadview Avenue – have all been identified as sites where the existing store, homes, green spaces, amenities and community space could all be accommodated.
All of the sites identified present an opportunity to build much-needed larger units, the study says, noting a shortage in Toronto of family units in new multi-unit developments. In addition, a significant portion of housing could be allocated to affordable housing. Toronto's inclusive zoning bylaws require between 5% and 22% of units to be affordable, with the amount varying depending on location, project construction date and whether the units will be rental or owned. Even if only 10% of units built on retailer lots were to be affordable, that would add nearly 7,000 affordable units to Toronto's rental inventory, the study notes.
It wouldn't be the first time that commercial land in Toronto has been redeveloped to accommodate larger residential projects. And according to architect and urban planner Naama Blonder, co-founder of Smart densityit is the way of the future.
"It's not a matter of 'if,' it's a matter of 'when,'" Blonder said. of the ground that allows for greater density it's just a matter of height what could be the best form of construction how we can achieve really good urban construction with other tools we have like designing the public realm like more parks and open spaces.
Late last year, an application was submitted to demolish Toronto's Centerpoint Mall and replace it with an 18-tower development with 8,325 residential units and 29,514 square meters of retail and office space. And at Yorkdale Mall, Oxford Properties Group is looking to build a 19-tower development above the mall's surface car parks that would add 7,935 units to the city.
But getting the six traders to agree to redevelop their properties in the way planned in the study will not necessarily be an easy task. The report states that a proactive approach and changes to public policies will be needed to "encourage private landowners to accelerate the redevelopment of their underutilized properties with a mix of housing and the integration of facilities such as libraries, day care centers and recreation centers that provide community benefit to."
Incentives such as accelerated development approvals, density bonuses and financial incentives are all being considered. The report also recommends that developers engage in early and meaningful dialogue with communities to curb oppositions full of NIMBYism to increased density.
As with any other development project, there would be a number of planning factors to consider, Blonder notes.
"It's really like any other project, and in any other project, there are good city-building principles that we want to achieve," Blonder said. "It could be the treatment of the ground floor, the open spaces, the built form and what we call the street wall – making sure the building really contributes to the character of the street. It's more of an urban design issue than anything else, because in a rapidly growing city like ours, I think using the land more efficiently — and that means adding hundreds of units residential—obviously comes with a lot of challenges, but it's definitely the right road.
Written by
Laura Hanrahan
Laura has covered real estate in Toronto, New York, Miami and Los Angeles. Before coming to STOREYS as an editor, she worked as an urbanized editor in Toronto for Daily Hive.
More from the author