How old-school beer styles are winning new friends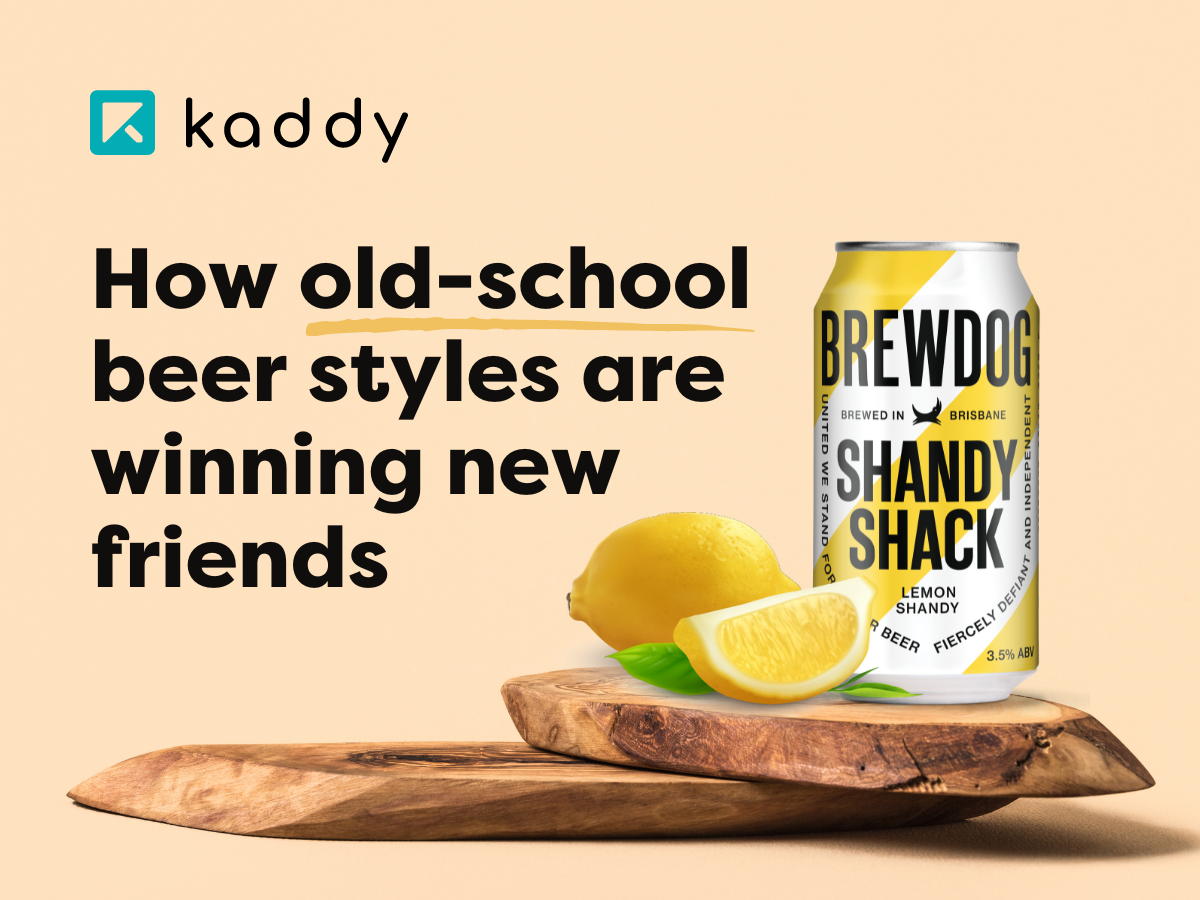 The beer is back. Last year we saw the first increase in overall beer consumption in many years, with over 7 million Australians enjoying a beer in 2021 (according to Roy Morgan). This is no doubt driven by an explosion of beer options, covering everything from session lagers to wild beer and beer/wine mashups.
What's fascinating though, is that we're seeing the return of some gloriously old-school styles that we hope will be just as popular as the modern boundary-changing styles.
This contrast is immediately apparent on Kaddy Marketplace. Here, 1 in 3 new beer listings are classified as "limited/seasonal releases", resulting in the widest range of craft beers in the country. Yet it is being reinvented and adopting very traditional styles that are capturing today's attention.
BrewDog's upcoming retro release, 'Shandy Shack Double Citrus Shandy' is a perfect example. The BrewDog team proudly call it "our time machine to your local RSL back to 1989", taking a "half-filled lager pony, topped off with our own fresh lemonade". Canned for backyard barbecues across the country".
It's hard to argue with the easy-drinking result. Half lager, half natural lemonade, it's a resounding success at 3.5% alcohol just waiting to happen. Shandy Shack is now available for pre-sale, with the official launch in September, and we're thrilled.
Another style on Kaddy Marketplace that is gaining popularity again is ginger beer.
According to Reportlinker's outlook presented in July, ginger beer is expected to grow globally by $4 billion by 2030, accelerating to a CAGR of 7.68%. But, of course, in 2020, ginger beer was growing 80% per year (according to IBIS World), so this is a longer-term trend than you might think.
The Six String X East Coast Ginger Beer is a great representation of this trend, marrying East Coast lemons with fresh ginger in an effort to achieve something that's comfortably all-natural, with just the right amount of sweetness for true refreshment.
As Simone Kealy, Kaddy's Marketing Manager, notes, that last part is critical.
"I think crisp ginger ale and session lagers are proving popular because they appeal to a different audience that might not appreciate the hazy or hoppy styles of pale ale and IPA. We expect to see the same from BrewDogis Shandy Shack".
One of the great things about this modern era of beer diversity is that so many styles are taken seriously, allowing breweries to stretch their legs in style and appeal to a wide range of consumers.
For a glimpse of this glorious diversity of the world of beer and the other frontier of brewing, look no further than A decreaseis the exceptional 'Double Vanilla Custard Pancake Imperial Nitro Thickshake IPA' (a mouthful in name and flavor!). Known as the #101 ranked beer in this year's GABS Hottest 100, this 10.1% alcohol wild ride is one of the most hedonistic beers you can imagine.
As the slogan says, "sit down". Ideally, a comfortable place with plenty of pillows.
Explore over 20,000 SKUs now available on Kaddy Marketplace, including an unparalleled selection of craft beers, wines, spirits and more. Create your free accountWhere connection today to take Kaddy for a test drive or just to stay up to date with the latest beverage trends and what's new!
Kaddy.com.au
Related